reviews
panasonicinteractivewhiteboard
67
Panasonic Interactive Whiteboard
100 teachers attended an exclusive event to see the new Panasonic Elite Interactive Whiteboard and learn about its features.
They also mingled with like-minded teachers, and received a goody bag containing a handout of the top 10 online resources for teachers, and a children's book amongst a few other items.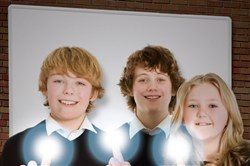 "Invalid object name \u0027#cere\u0027."