reviews
FinishQuantum
47
Finish Quantum
2,250 people tried the latest development in dishwashing products from Finish, Finish Quantum - which uses unique 3 chamber technology to deliver the promised result of "the cleanest, shiniest dishes".
Each person was sent 12 Finish sample packs to test with their family and share some of the dishwashing tablets with their friends.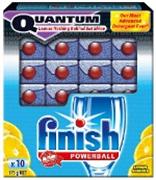 "Invalid object name \u0027#cere\u0027."